Save yourself or your kids Time, Money, and Stay Safe at your Home
【Professional Quality Hair Care 】
– Everything in this hair styling is made to stand the test of time. Fine enough quality for professional use at salons, but made to be easy for anyone to use. DIY (do it yourself) haircuts that are suitable for children, women, and men. A great gift of beauty products for any occasion.
【Hight Quality】
Our haircutting made for plastic material, which makes it more durable, Perfect for Women, Men's, and Children's Hair!
【Versatile】
Whether your hair is long, short, curly, or straight, you can give yourself a professional cut at home with these trimmers and cutters.
【Perfectly Straight Fringe Guaranteed】
Use the built-in Leveller to get your Fringe cut to the perfect length every time. Great for different hairstyles and usable for all hair types (straight, wavy, curly, kinky).
Get The Perfect Haircut Without Spending A Fortune At the Salon; You can finally cut your own hair easily at home and start saving from expensive salon visits.
【360 rotated】



Rotating Level switches at every 22 degrees, hair in place while you cut with ease accurately, making precise cuts.
【Widely Used】
– Our 2 Piece Kit Allows You to Trim &
Style Your Entire Head, Making it a Must Have Item in Your Hair Arsenal! Perfect for Women, Men's, and Children's Hair!
We recommend you buy a bundle of Professional scissor and trimmer to get the best results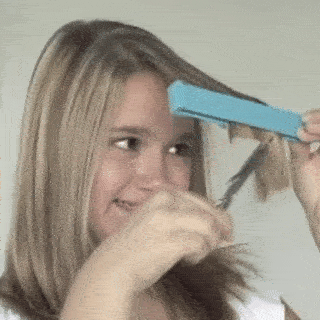 【Everything You Need To Cut Your Own Hair At Home】
Whether your hair is long, short, thick, or thin you can give yourself a professional haircut at home every time!
【Easy To Use】
Simply Attach the Clip (Pink for Front, White for Back) To Your Hair, Adjust The Bubble & Trim!
How to Use the Willie Original hair cutting
Willie hair cutting patented design makes home hair cuts fast and easy. Anyone, regardless of hair type, hair length, and experience can use it.
Step 1: Clip
Comb out any knots and tangles and clip the will haircutting on the hair.
Step 2: Slide
Slide the hair cutting down to the desired length. Remember to trim a little at a time. You can always go back and cut more.
Step 3: Cut
Check the level for balance and cut with sharp scissors or trimmer. Cut straight across or at a 55 °angle for more texture.
Tips for Beginners
Practice cutting on a piece of paper with a sharp hair cutting scissor at a 55 °

 

angle.

Dry hair is recommended when cutting as hair combs easier, and especially when cutting fringe.

If you have questions or need help, ask us at info at asking us to make some tutorials on how to use it
【Customer reviews】