diy cracked glass repair kit!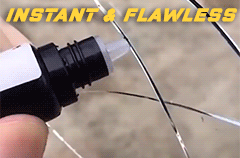 this diy cracked glass repair kit allows anyone to fix cracks or chips windshields and laminated giass safely,easily and inexpensively, before those cracks grow! the glass repair kit includes everything needed for a quality repair. the single-ingredient glass filler simplifies the application process by eliminating the need to mix or heat materials. the glass filler matches the clear optical qualities of glass to create a clear and see-through repair.
featuerseasy to use
--allows anyone to fix a damaged windshield or glass display.
quality parts
--reinforced injection sealant dispensing head.
single ingredient filler
--eliminates the need to mix ingredients with other kits.no heating required!
PACKAGE INCLUSIONS:
1x ZeroCrack Glass Repair Fluid
5x Curing Films
1x Razor
1x Fixer
1x Syringes