Wear love on your wrist, and feel connected even when you're apart.

By having a special bracelet that lights up and vibrates with each touch, you and your partner can have a way to let each other know that you're thinking of one another, even when you're apart. This can be a meaningful way to stay connected and feel close, especially in times when distance or busy schedules might make it hard to stay in touch as much as you'd like.
These matching beaded bracelets are a meaningful and unique way to stay connected with loved ones who are far away and serve as a constant reminder of the special bond that exists between two people.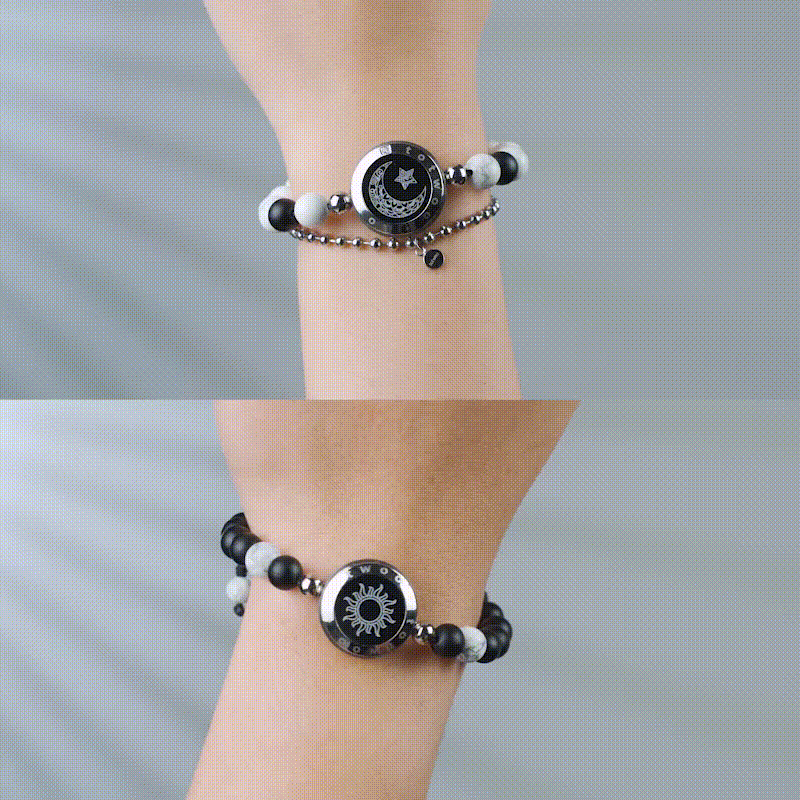 The Most Fashionable Bohemian Design Elements-Sun and Moon!

Sun and Moon are eternal existence in the world, let us like the sun and the moon, never separate. Engraved with "My heart is, and always will be yours" from Jane Austen on the backside.

Unleash your natural aura with natural beaded bracelets. Embrace the power of black agate for prosperity and courage, while the Howlite stone symbolizes energy and healing. Mix and match to feel both in every bracelet. Let this matching bracelet be a constant reminder that you hold a piece of your loved one's heart with you at all times. Handmade with care and adjustable for a perfect fit.
SPECIFICATION
Water Resistance:

Waterproof



Connection:

Bluetooth 5.0



Compatibility:

IOS & Android system



Materials:

316L stainless steel; ; Black Agate;White Howlite;



Size:

Sun Bracelet Inner Circumference: maximum 9.84"(250mm);




Moon Bracelet Inner Circumference: Maximum 9.06" (230mm);

USB Charger:

3-7 days according to your usage.