Fire Proof Blanket
It's the first thing every Fire Department will tell you to grab.
Highly Recommended by the Department of Fire and Emergency Services!
Main Features:
A fire blanket is a simple fire safety device designed to tackle early-stage small fires. A traditional fire blanket is constructed from a sheet of woven fire retardant material, often fiberglass, with handles and can withstand temperatures of up to 1022°F (550°C).
SUFFOCATE FIRES
Cover the fire with the blanket to put it out in just seconds!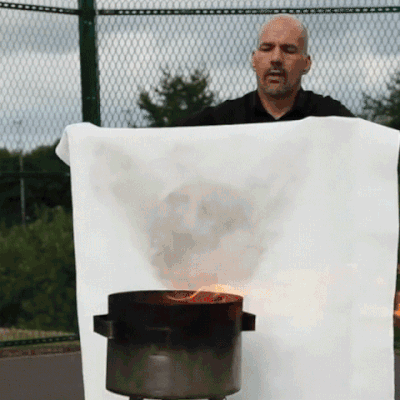 NO MESSY CLEANUP
No bulky and complicated extinguishers that leave you with a mess to clean.
Why do we need a Fire Emergency Blanket?
MESS-FREE: No training needed, even kids and elderly can use it
FIRE PROTECTION: Wrap around your body as a heat shield
REUSABLE: Can be cleaned or washed & reused
COST-WISE: Cheaper than a fire extinguisher & no maintenance fees
VARIOUS PLACES TO USE: Emergency survival fire blanket ideal for the kitchen, fireplace, grill, car, camping and so on
And because it is light and compact, you can easily grab it at moment's notice.
A Necessary item in everyone's Kitchen & Home!
Specifications:
Size: 100 * 100 cm / 39.37 * 39.37 inches

Material: Glass fiber
Package Include: